库尔特埃莎亚洲有限公司和库尔特机电设备(上海)有限公司,是德国库尔特埃莎集团在亚太区的分销和技术服务机构,现有员工过百人,主要从事德国埃莎焊接设备和焊接工具,德国库尔特塑料成型设备,德国库尔特铸造设备的销售和技术服务工作。成立于1779年的库尔特集团已有240年的悠久历史,始终坚持以品质和创新引领行业发展的企业理念。进入中国20年来,库尔特埃莎在中国取得了巨大的成功,其中埃莎已是全球大型,全面的电子装配焊接设备和工具供应商。德国埃莎在中国,已成为华为,中兴,富士康,广达,比亚迪,博世,大陆汽车,法雷奥,德尔福,德赛和西门子等1000多家客户中焊接设备的主要供应商之一。2016以来公司连续获得华为的设备供应商奖项。德国埃莎的焊接设备,尤其以选择性波峰焊和回流焊设备为代表,已占据了行业内相当领先的市场份额。(埃莎选焊,ERSA选焊,选择性波峰焊,离线选波,进口离线选择性波峰焊)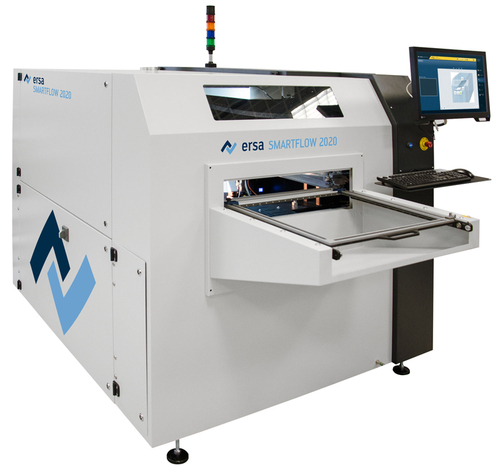 Highlights Selective Soldering System
Ersa SMARTFLOW 2020
Compact without compromises
Modern process visualisation with ERSASOFT 5
Convenient PC control with swiveling 24'' touch-screen
Ersa CAD-Assistent
Use of Mini-Vario-Wave, Mini-Dip and area nozzles
High ease of servicing
Drop-Jet Fluxer with integrated monitoring
Highest positioning accuracy and process
All-over heating IR preheating lower/upper (scalable)
Low energy and N
2
consumption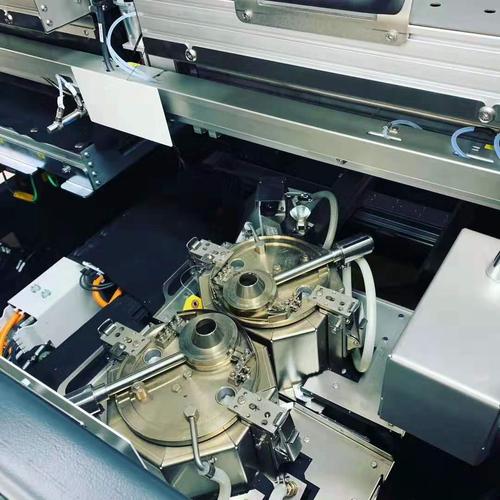 Optimum for production in cell manufacturing
With the SMARTFLOW Ersa expands its range of products in this sector by a compact selective soldering system. With a footprint of less than 2.5 sqm the SMARTFLOW perfectly fits in productions with cell manufacturing. The semiautomatic operates in all process steps with the proven Ersa selective soldering technology, just like the larger Ersa VERSAFLOW models, suffering no comprimse in regards to quality and accuracy. The universal pallet mount allows processing boards with the size up to 508 x 508 mm.The fluxer performs with the highest positioning accuracy and with the least amount of flux deposition.
Features like spray jet monitoring or the process monitoring camera provide for process safety. Like the VERSAFLOW model range, the SMARTFLOW is equipped with a all-over preheating. The lower heater is furnished with eight emitters, which can be switched in groups so that the power consumed can be adapted to the heat demand and the size of the board. The upper heater has completely been overtaken from the lower heating is optimally adjusted to it. This ensures an efficient and reproducable through heating even for most complex component like multi-layer or heavy-mass.
Moderne process visualisation with ERSAsoft 5
The SMARTFLOW is the first system to be equipped with the modern ERSAsoft 5 operating software. This new version of our time-tested machine software impresses with its user-oriented
structure in addition to modern visualisation. Thanks to individual user interfaces, every user group gets the required data and information at a glance. Another highlight of the software is the picture in picture function (PIP) in combination with the process monitoring camera. Soldering parameters and a live process picture are available at a glance on the 24'' touch-screen, which makes working on the machine ergonomical and clearly arranged.
Length from 1,750 mm

Width from 1,450 mm

Height from 1,520 mm
Universal pallet mount

PCB width: 15-508 mm

PCB length: 15-508 mm

Maximum PCB top side clearance: 80 mm

Maximum PCB bottom side clearance: 60 mm

Maximum PCB weight: 3 kg
Nitrogen

Pneumatic system

Electric supply

Extracted air
Electromagnetic solder pot

Mini wave/Mini-Dip (optional)
Preheat bottom/top side: short-wave, dynamic IR emitters

Emitter control for top and bottom heating

Process monitoring camera (picture in picture system)

Barcode scanner (2D handheld)

Take-over of PCB data from CAD systems; programme creation (CAD assistent)

Automatic soldering wire supply

Different solder nozzle diameters

Nitrogen heating

资料下载